info
Contact us
ESUS IT Aleksandra Drobińska
Somosierry 30a
71-181 Szczecin
Questions about ordering online (Mondays to Fridays from 8:00 to 16:00):
E-Mail: sales@esus-it.com
Online-Chat on the site: www.esus-it.fr
Sales tax identification number: PL 672 192 76 64
CEO: Szymon Drobiński
The European Commission provides a platform for online dispute resolutions (ODR) which can be accessed at
http://ec.europa.eu/consumers/odr/. We do not intend to participate in dispute settlement proceedings before a dispute resolution body.
Privacy Policy by TMG: https://www.esus-it.com/privacy-policy-cterms-eng-12.html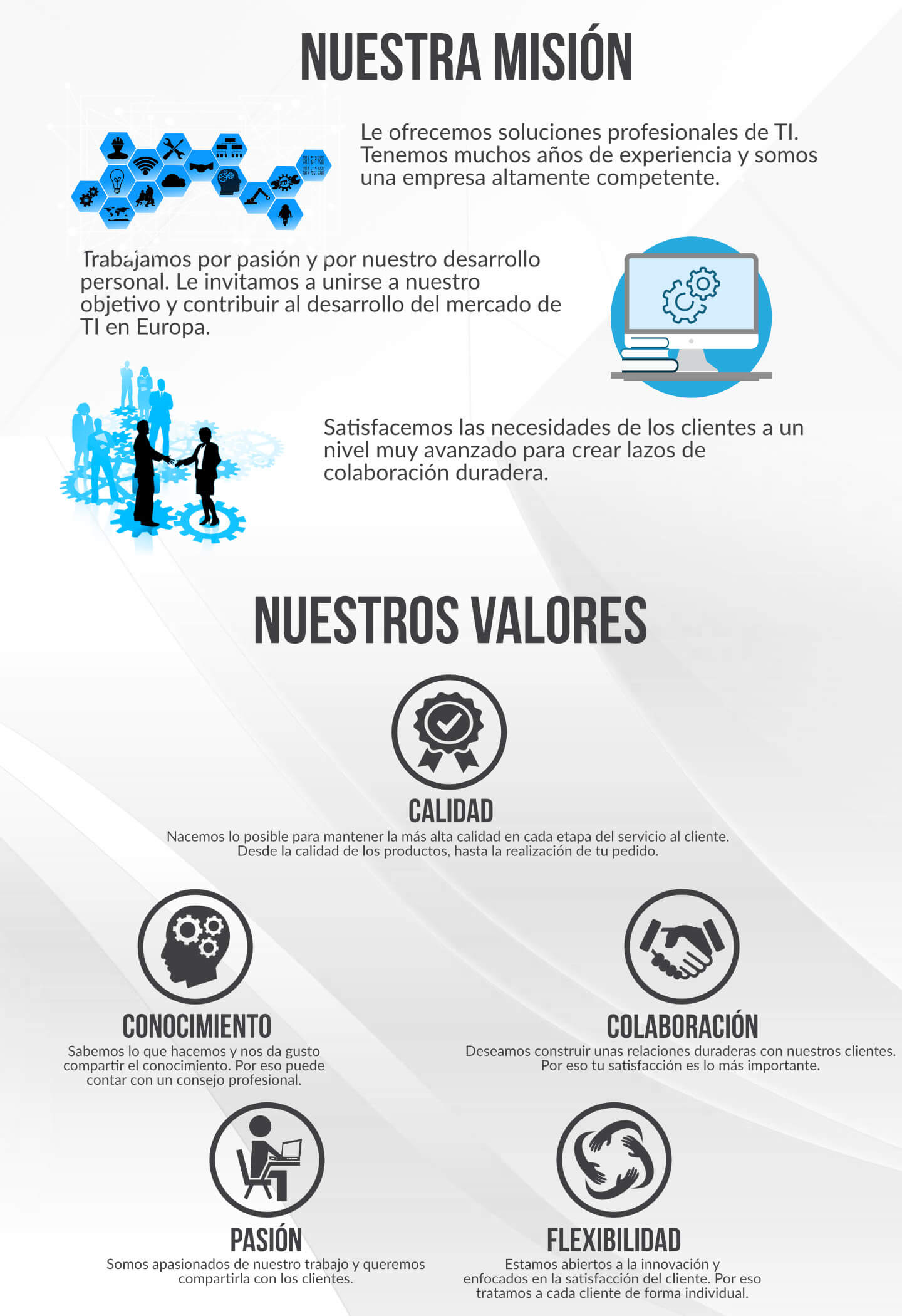 ESUS IT es una empresa establecida en 2008.
Nos gustaría presentarles nuestra empresa, que no es una simple tienda online. La historia de nuestra empresa comenzó con la venta y la selección de módulos de memoria RAM. Primero, el sitio web ESUS IT se creó para responder a las necesidades de nuestros clientes, que tenían dificultades en encontrar una «memoria compatible" para el modelo de servidor que tenían, su estación de trabajo, portátil o su ordenador APPLE. Con el tiempo, fuimos desarrollando la empresa y llegamos a ocupar la posición de líder de la venta de módulos de memoria RAM en nuestra región. En la oferta se encuentran productos de tales empresas líder en la memoria RAM, como Samsung, Hynix, Micron, Crucial y una amplia gama de memorias dedicadas para marcas tales como: Asus, Asrock, Cisco, Dell, Fujitsu, HP/HPE, IBM, Intel, Lenovo, Oracle, Supermicro, Tyan, Gigabyte.
También tenemos el conocimiento necesario para elegir soluciones relacionadas con el almacenamiento de datos. Te ayudaremos a elegir el disco SSD adecuado (Intel, Micron, Samsung, Western Digital) o el HDD (Western Digital, Seagate, Toshiba) de los mejores fabricantes. En nuestra oferta tenemos también las soluciones nuevas y de segunda mano, dedicados a los servidores de HP, DELL, LENOVO, IBM. Además, complementamos la oferta con los discos Qnap y Synology y las soluciones del tipo JBOD y JBOF de Western Digital.
Respondiendo a las necesidades de los clientes, hemos ampliado la oferta con tales productos como: Access Point (punto de acceso), Switch (interruptor), Firewall, cámara IP, cables, módulos SFP, Routers, Tarjetas de red, Antenas, Telefonía VoIP y soluciones Security (de seguridad) para las marcas de redes: Ubiquiti, Mikrotik, Netgear, HPE, Zyxel.
Respondiendo a las necesidades de nuestros clientes, hemos creado una navegación muy simple, que permite conocer con facilidad toda nuestra oferta. Queremos eliminar cualquier duda que pueda tener a la hora de elegir los accesorios de servidores, tales como, por ejemplo: procesadores, controladores, alimentadores y otros accesorios que puedan encontrar en nuestra página. Nuestra oferta en el campo del TI sigue creciendo. Nos basamos sobre todo en las necesidades de nuestros clientes. La oferta seguirá creciendo. No paramos de buscar soluciones exhaustivas en el campo de la infraestructura de redes y servidores y de todos los elementos de almacenamiento de datos y creación de copias de seguridad. Por eso, en nuestra tienda puede comprar todo lo que necesite.
¿Por qué la empresa ESUS IT?
- Desde hace 11 años, aconsejamos y ayudamos a elegir las soluciones óptimas
- Nuestro personal de aficionados les ayudará a elegir el dispositivo compatible, ajustado a sus necesidades y expectativas
- Compras fáciles y rápidas: los Clientes pueden elegir entre varias formas de pago
- Dispositivos controlados: a pedido del Cliente, podemos hacer una prueba del funcionamiento del dispositivo antes de su envío
- Posibilidad de devolver o recambiar los productos comprados
- Les proporcionamos unas descripciones exhaustivas de la oferta y unos filtros de búsqueda avanzados. Así, el Cliente podrá elegir lo que más necesite.
¡Conozca nuestra tienda y ábrase a nuevas posibilidades!